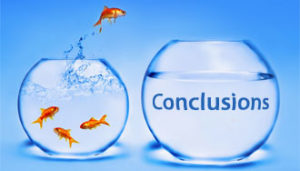 According to Wikipedia, "jumping to conclusions" (officially the jumping conclusion bias, often abbreviated as JTC, and also referred to as the inference-observation confusion) is a psychological term referring to a communication obstacle where one "judge[s] or decide[s] something without having all the facts; to reach unwarranted conclusions."
JTC has caused me more grief than any other Knower/Judger reaction I can think of.
These were a couple of jokes around my house in my youth:
"Don't confuse me with facts. My mind's made up."
"On what do you bias your opinion?"
My dad, who, upon reflection, was usually not very open-minded, frequently said both for their humorous impact.
Why do I jump to conclusions? Because my K/J rules and understanding of how things work (my narrative) channels my judgment to that end.
Let's face it. We don't know what we don't know. If I'm missing data that supports a different narrative, then arriving at a different conclusion has no path… I can't get there.
But where can I get? I can get to my preconceived conclusion simply, quickly, and with a minimum of effort or energy.
Can you see how this can get me in trouble?
Jumping to conclusions can occur in two ways: mind-reading and fortune-telling.
When I mind-read, I assume others are evaluating me or have some intention for me. When these intentions are perceived to draw negative impact on me, I can get a little freaked out. No real data, just assumptions here.
When I fortune-tell, I am predicting a future outcome or deciding how situations will turn out before the situation has even occurred. Again, no real data.
Can you recognize these two exercises?
In both cases, the path to conclusion follows the fissures created by a lifetime of writing and honing my K/J rules that make stopping and looking for other possibilities difficult.
What can steer me away from this trap?
Noticing when I'm doing it. Our stories often feel justified and so very real because they fit our picture of how things are, which is why the first step to changing them is about noticing they are just stories.
I can separate out fact from fiction by asking what I know to be objectively true, what assumptions I'm making, the other possibilities, and whether I can find further information. I find that when I see myself in this situation (which takes a level of presence and self-observation—it's a learned skill), I start to ask more questions (looking for more data) or simply test an opposite conclusion for validity. Is it possible they're NOT going to fire me but instead give me more responsibility and a raise?
And I can also take note of the feelings underneath my conclusion. Feelings like anger go hand in hand with other experiences, like vulnerability, shame, guilt, and so on. And they're usually looking for validity. When I can name those underlying feelings, I can better address them. And when I can recognize and accept that sometimes I don't—and won't—know, then that becomes my new reality. It's data as opposed to conjecture… or even outright fantasy.